Christmas Joy Mantel makes my Christmas a little brighter. A little piece of happiness to put me in the Christmas spirit.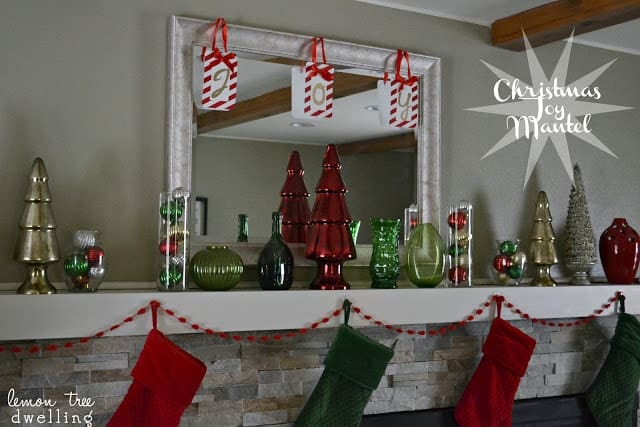 …
I used to think that, as a society, we rushed into Christmas. That we allotted a disproportionate amount of time and energy for it. That Thanksgiving got cut short, every year, by our eagerness to move on to Christmas. It used to really bother me. So much so that I used to delay Christmas decorating as long as possible. But this year? This year's different. This year my Christmas decorating is all but finished and it's not even December! And this year it's bringing me nothing but joy.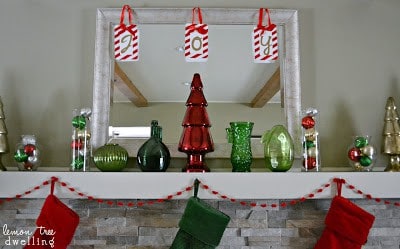 I honestly think it's because of all the Thanksgiving decorating I did. (Rotting gourds are a great reason to change up the decor… 🙂 Seriously, though, there's something about decorating for a season that makes the season more REAL. It's hard to feel like Thanksgiving is rushed when the month prior is filled with pumpkins and Thankfulness Turkeys and signs reading "Give Thanks."
The truth is that decorating reminds us of the beauty of the season, and invites us to be present to that beauty. I was present to Thanksgiving while it was here. Which is why I decided to be done with it (the holiday, not the practice) and move on to Christmas.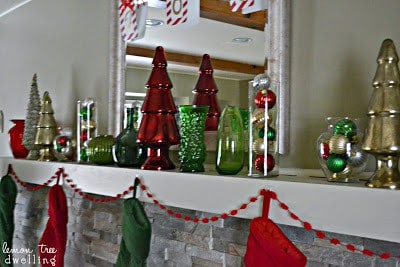 Christmas Joy Mantel
I am a big believer in using what you have to create something beautiful. So I opened up all my bins of Christmas decorations, grabbed some red, green, and clear glass vases, and got to work.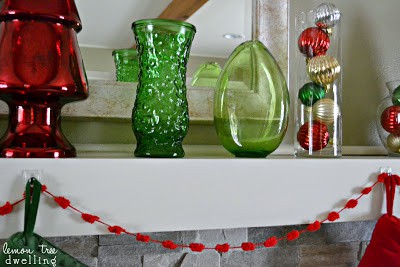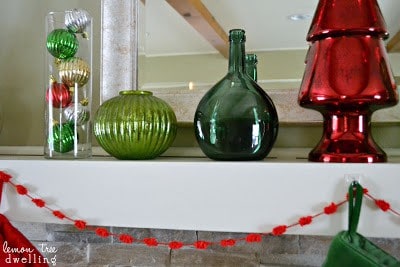 I love the mix and match quality and the way the different colors and textures came together in my Christmas Joy Mantel. I also love seeing these various pieces, from their various storage/display places, all join forces for the holiday season. For the "JOY" banner I used paper wine tags and a gold paint pen: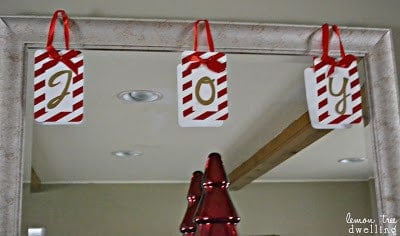 And the stockings? Those were a clearance purchase after Christmas last year. I couldn't have been more excited when I found them in the bin and discovered how perfectly they matched what I had going on. (Always remember to check your local Target after the holidays for great deals on clearance items!)
Sometimes things just work.
Like this decorating thing…. it works! We are getting into the Christmas spirit a little more each day, and are reminded daily of the JOY the season brings…as long as we let it in.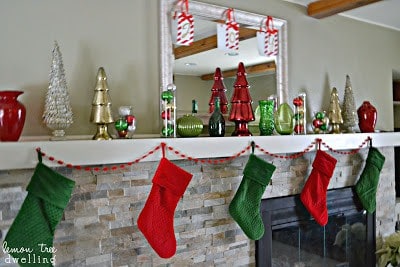 Why not enjoy a lovely holiday drink while you are decorating your Christmas Joy Mantel!