This Bare Branch Christmas Tree is a beautifully simple holiday decor piece. This DIY Christmas Tree comes together in minutes and makes a great addition to anywhere in your home.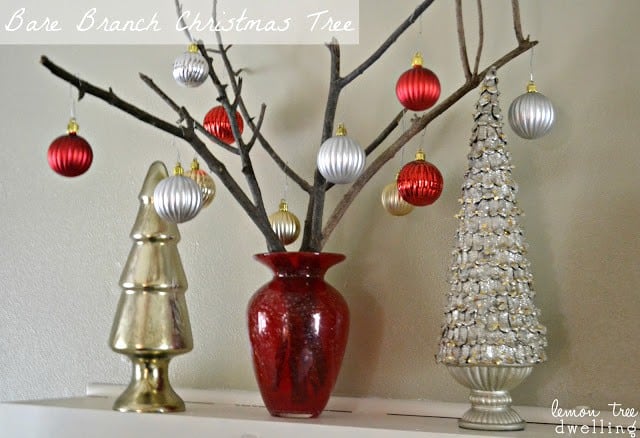 When Ellia was in kindergarten she came home with an assignment: Guess how many trees are in your yard, then count them all to see how close you came. Simple enough, right? Well, the guessing part was okay. But then the counting started. And we very quickly realized that: (a)we were living in a forest  and (b)our guess was WAY off!
The 'simple' assignment took us forever, and at some point (around 150) we decided to stop counting and go back to just guessing. There were just.  too.  many.  trees.
We have a full wood pile in our back yard, and it seems that anytime the wind blows we find a new branch or two on the ground. Which explains why sticks keep showing up in my decorating. I can't escape them! Add to that the fact that we recently converted our natural fireplace to gas, and it's clear where we are headed – lots and lots of stick projects!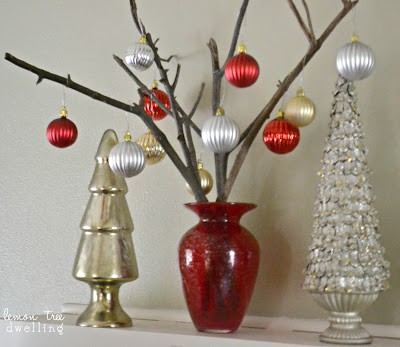 Bare Branch Christmas Tree – A beautiful piece
When I first put these branches in the vase, Jorden thought they looked like antlers. So I left them that way, bare, for over a week. Like antlers in a vase is a good look…(?) And then we were getting ready to have company over, and I decided that everyone might not share our vision, so I decorated my little antlers with some ornaments.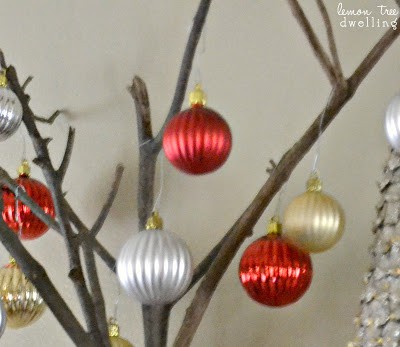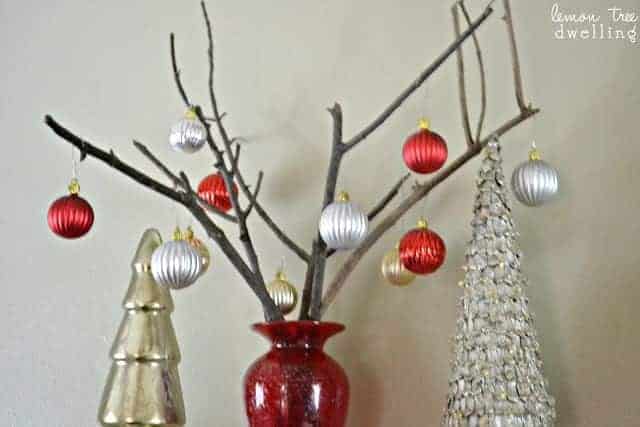 I love the simplicity of this holiday decoration.
The fact that I was able to make use of something that's available to me.
The idea of bringing a little piece of nature indoors.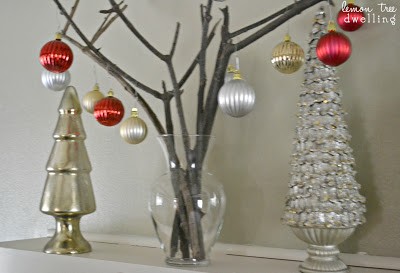 I also love how versatile it is.
Just changing the color of the vase makes a big difference!
Now imagine it in YOUR colors…and we just might be on to something!
If you love this holiday decor piece, then you will love my Broken Twig Tree
Be sure to like our Facebook page!