<![CDATA[

 Oreo Truffles meet S'mores in a match made in Heaven!
I'm sure I speak for everyone when I say that summer is FLYING by! Summer school is over, my friend Tanya's wedding is over, and (ohmygosh) July is almost over, too! And we all know that once August hits, the rest of summer basically becomes a countdown to the first day of school! Good thing it's S'mores Week in Blogland so we all have something to look forward to…!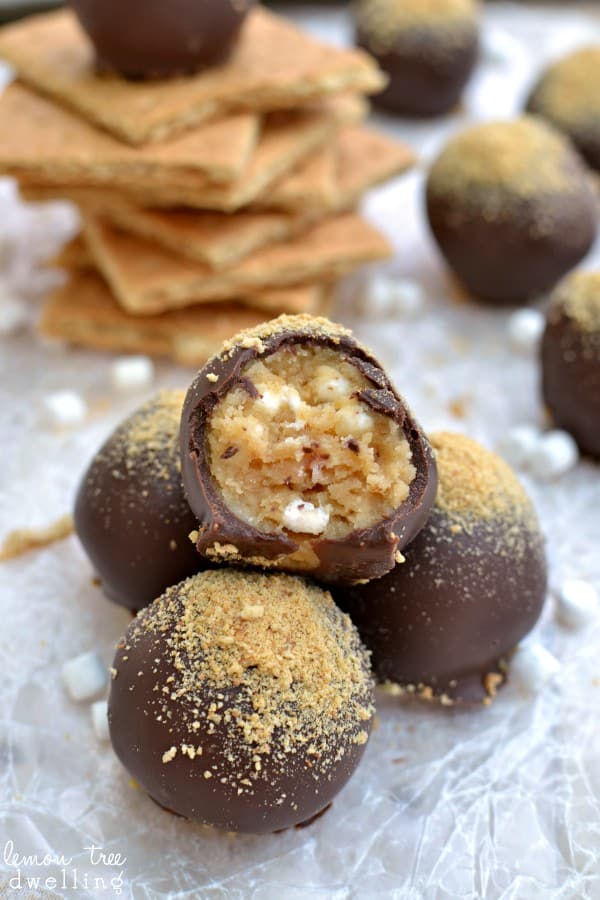 And you know what else we have to look forward to? Our annual family vacation coming up this weekend! Okay, to be honest, calling it a vacation is a little bit of a stretch. (And not just because nothing feels like much of a vacation with 4 kids!) It's more of a getaway, to a house we rent that's about 2 1/2 hours away. It's a tradition we started with my parents and siblings 4 years ago, and it's a trip we all look forward to each year! ESPECIALLY the kids.
 There's swimming and lawn games and board games and relaxing….there's lots of eating and drinking and laying around and just being together. Of course, there's also a healthy dose of chaos and a tad bit of stress involved….but for the most part, it's a chance to unwind and unplug and spend some quality time with one another.
 The only thing that's missing? A fire pit for roasting s'mores! The house we rent just doesn't have one ….which is a real shame. Because we all know that summer isn't complete without s'mores, and we have yet to make them happen! No, we've been too busy enjoying all kinds of s'mores-ish treats….like these awesome Golden S'moreo Truffles…..which, it turns out, would be the perfect solution to our fire pit-less house! (Don't you love it when things just work out??)
Golden S'moreo Truffles
1 package Golden Oreos
1 (8 oz.) package cream cheese, softened
1 c. Kraft Jet-Puffed Mallow Bits
1 (16 oz.) package milk chocolate Candiquik
½ c. graham cracker crumbs
Using a food processor, crush Oreos into crumbs.
Combine cookie crumbs, cream cheese, and marshmallow bits in a medium bowl.
Roll into 1-inch balls and place on cookie sheet lined with wax paper.
Refrigerate until firm.
Remove from refrigerator and dip balls into melted Candiquik.
Sprinkle immediately with graham cracker crumbs.
Makes 36.
So are you ready to check out the rest of the S'mores Week posts? I thought so!!
~ "This book was not what I expected…it surpassed what I was hoping for. Mystery, romance and intrigue. Great characters and an interesting plot. It was a great read and perfect for summer reading!" Jana of Double the Deliciousness
2. Plate to Pixel by Helene Dujardin – "This book is a favorite because it teaches how to not only how photograph food, but how to do it beautifully!" Gina of Kleinworth and Co.
3. These is My Words by Nancy Turner "While I'm a country/ farm girl at heart, I can't even begin to imagine what the early settlers went through! I love how they worked the land, built their own homes, and made everything from scratch! And I'm always up for a good love story! Jack and Sarah's won't disappoint!" Brooke of Blissful Roots
4. The Greatest Salesman in the World by Og Mandino – "Aw, I love this book! It's a super unique book, in that it's a parable, teaching you how to be a better person, but also an activity book. Each chapter, you read over and over, until you master the character trait. It's a great story with lots of great thoughts. I think I highlighted half the book!" Mariel of 'Or so she says…'
5. Eat Cake by Jeanne Ray "Eat Cake will make it's way into your list of favorite books, it's a quick and enjoyable read. I love this book for more reasons than the fact that the main character shares my name! It'll have you laughing and crying- all at the same time! If you're like me and have a unexplainable urge to bake… you'll totally connect with Eat Cake!" Ruthie of Cooking with Ruthie
6. Wonder by RJ Palacio – "My 9-year-old daughter recommended Wonder to me and I enjoyed it just as much as she did. This is a compelling novel that is fun and easy enough for summer, but also intelligent and thought-provoking. Share it with your family when you are finished!" Allison of Tips for Family Trips
7. The Happiness Project by Gretchen Rubin – "I love this book because it is getting me to think deeper about what I do to bring happiness upon myself. I am a happy person, but am loving the new outlook and am loving making new goals to make myself really live a happy life." Kiki of Kiki and Company
8. Happier by Tal Ben-Shahar – "It's easy to think that once a certain thing happens, I'll be happy. Well, this book provides little life secrets to be happier each and every day. It is applicable for every life stage. It has changed my way of thinking about happiness." Melissa of So Festive!
9. Blackmoore by Julianne Donaldson – "Sometimes a mom just needs a good, quick, easy summer read to distract her from doing more laundry or to keep her busy during swim lessons. If you love a good Jane Austen romance, you will love this book! Set in Jane Austen's English countryside of 1820, this romance will keep you quickly turning the pages as you watch Kate's struggle to learn to follow her heart!" Veronica of Lolly Lu Designs
10. Leadership and Self- Deception – "Do you want to know the secret to having a happy and successful family and marriage? Want to know how to have successful relationships with anyone you come in contact with? Leadership and Self-deception holds the key to mending, strengthening and flourishing in all of your relationships. This book is a life changer- Promise!" Heather of Family Volley
11. Surprise Inside Cakes by Amanda Rettke – "It's a beautiful book of cakes and it's full of cake decorating tips for the everyday bake. Amazing cakes for every special occasion, all with a little surprise on the inside." Zainab of Blahnik Baker
12. The Child Whisperer by Carol Tuttle – "It taught me how to parent my very determined toddler (at the time) based on her personality type." Amy of The Connection We Share
13. A Thousand Splendid Suns by Khaleo Hosseini – "I read this as part of a book club and it has stuck with me ever since. It is a beautifully written, emotionally gripping story of two Afghan women's suffering, strength, and resilience. What I love most about it is the way it celebrates the strength of the human spirit – a beautiful thing!" Cathy of Lemon Tree Dwelling
14. I've Got Your Number by Sophie Kinsella – "A light, charming book by the author of the popular Shopaholic series. This clever romantic comedy makes for a fun and easy summer read, by the pool or on the beach!" Samantha of Five Heart Home
15. Princess Academy by Shannon Hale – "I loved this simple story that has some fun little twists. My favorite part is that my daughter loved this book as much as I did. I love being able to enjoy the same books as my daughter. This is one that was enjoyable for us both!" Holly of Bits of Everything
Bonus Book! Food Storage by Angel Paskett – "Everyone should be prepared on some level, and this is the book that can help answer your questions and get you there. It begins with the basics and answers almost any question you have with getting started. I wish I had this a few years ago, but glad I have it now!" Jamie from Prepared Housewives

Longest post of your life? Maybe! But, it's worth it. Good luck to you!

Fine print: Must be U.S. resident and 18 years or older to enter. Vacation package must be booked at least 60 days in advance and is subject to availability and some blackout dates. This post contains affiliate links.

]]>